The Verify action allows an MSP or IT Department the ability to track when they have verified that backups are being checked each day. There is also an associated report that can be used to show compliance in the testing of backups.
Select the backup or backups that you are verifying.
Click the Actions Menu located on the left side of the Audit page.

Audit -> Actions -> Verify

A new tab will open where you can input verification notes.
Add any notes regarding the action that you wish to have show up on the reports and click Save.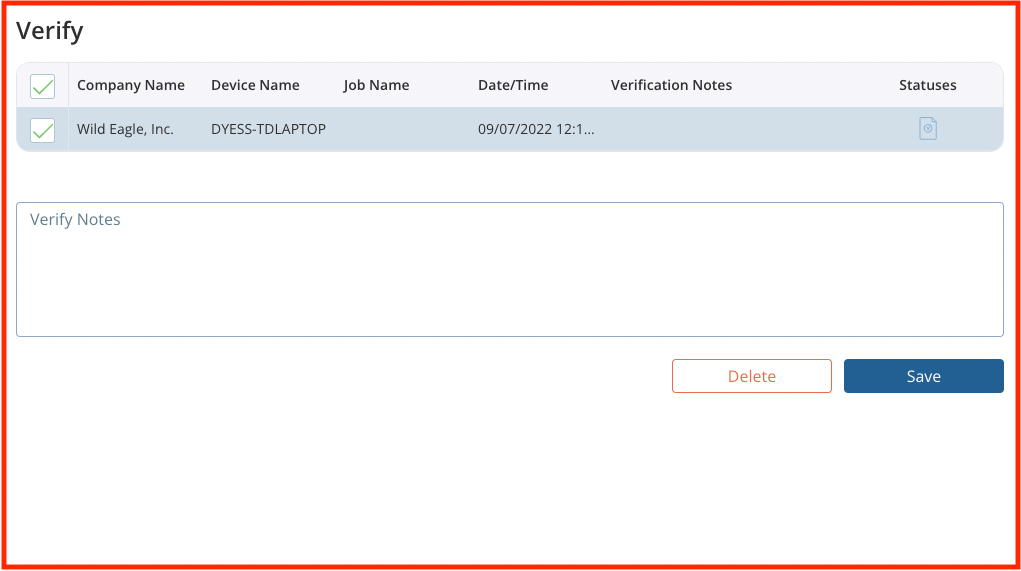 The user who took the action is logged in the system and this information can be visible on the verification reports.
If you click "Apply Filters" it will refresh the screen and you can see that the backup now shows a Checkmark under the Verified column. This is also a great visual indicator for teams that are checking backups together to know when someone else has checked the backup.

There are two associated reports that can be run for the Verify action.

Verification Exception Report: The exception report will show you backups that were not verified for a day.
Verified Results Report: This report will show you the backups that were verified
You can run these for a day or a month etc. Generate with Filters will also allow you to choose more criteria like showing the email address of the user who verified it and time stamp of when a backup was verified.
* Please note, this action logs the activity taken for reporting only. It doesn't mean that they have resolved the issue but rather that someone has put eyes on the backup.