In order to get Backup Radar to successfully monitor your SkySync backups, you will need to open your SkySync application on the device and direct the email notifications to your Backup Radar email address.
If you do not know your Backup Radar email address, this can be found in-app by navigating to Configuration Mailboxes.
For more information, see How to view your email mailbox in app.
On the left-hand menu bar, select "Notification". To start with fill in your SMTP server details and credentials. In the "To" field add your Backup Radar email address. Set the "Notification Level" to "Always"
To ensure our parser can identify that the emails are coming from SkySync, you will need to ensure the "Subject" is "SkySync Backup Notification [DEVICE_NAME]" where the particular device name is contained within square brackets.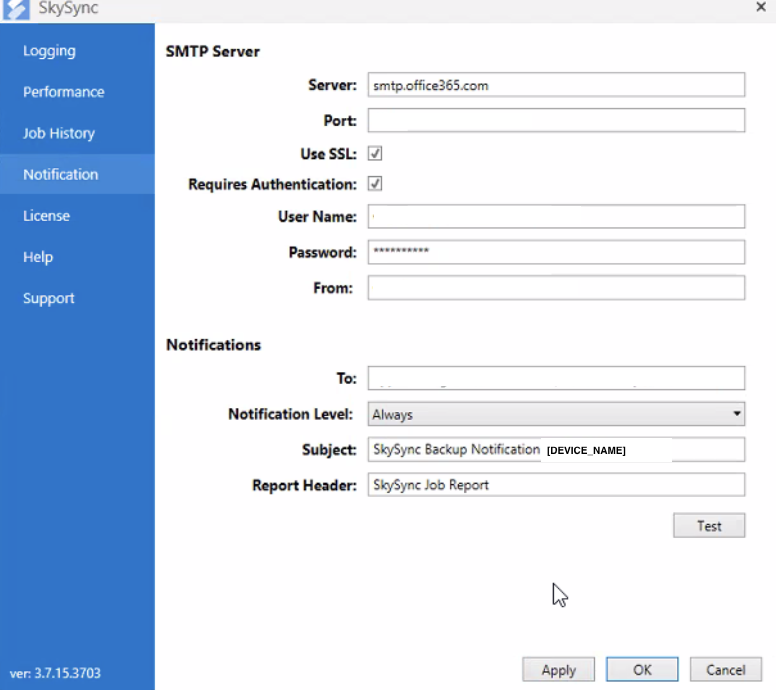 Please note: Your portal may not reflect the screenshots shown in this article exactly due to updates or changes made by the vendor. If these are no longer valid, contact our team to help get these email notifications set up.